Summary
Join us to develop ONE Social and help answer empirical questions, such as … Can learners among all healthcare fields:
Improve interprofessional mass health communication competencies?
Create one common bridge between clinical practice and vetted resources?
Increase awareness of, access to, and consumer demand for evidence-based practices?
Lead intercollegiate fitness challenges to improve community health?
Not sharing is harmful
Every day, clinicians fail to connect patients to evidence-based treatments, "Ask your doctor" ads implore us to buy needless pills, and misinformation spreads virally online.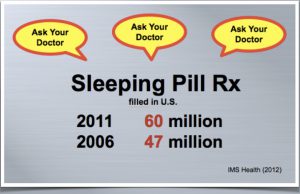 Case in point, millions suffer needlessly with insomnia despite visiting clinicians and spending billions on sleeping pills – upon which they may be hooked. Still, too few know that Cognitive Behavior Therapy-Insomnia (CBT-I) is the top treatment.
What about "Do no harm"? When healthcare professionals do NOT speak up on social media together – for evidenced based practices and against the hype – is it not unethical or harmful?
The Training Gap
Since 2004, it's agreed.  ALL health professions need to learn to leverage mass media – using hands-on, interprofessional training – to promote what works to the public (i.e, Curriculum). Yet, most do NOT get media training.
We propose that professional schools outsource their media training … similar to the way they outsource Quality Improvement (QI) training to the IHI Open School. Hundreds of worldwide health profession programs require online IHI courses, including hands-on training via the IHI  Open Practicum.
The Open Network
The non-profit Open Network (ON) of Health Hubs, guided by GMU Distinguished Professor of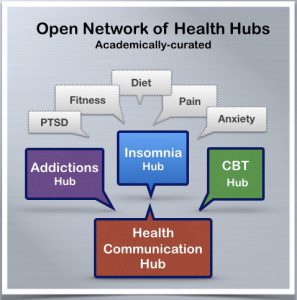 Communication Gary Kreps (former founder of NCI's Health Communication and Informatics Research Branch), is a social media platform of interconnected Hubs. People can author posts that can be shared across Hubs (e.g., Insomnia, CBT, Addictions) and each Hub can be developed and curated by people without any digital technical knowledge.
The Open Network could offer hands-on skill practice in communication and social media – for ANY student in ANY program … NO silos!
We seek academic partners interested in overseeing the curation of a Health Hub in their field of expertise. As well, we seek educators to develop the Open Networked Education. 
'ONE Social' 
We propose the development of ONE Social (Open Networked Education) using Jigsaw cooperative learning. Online service-learners would train to leverage social media to promote best practices. As they'd develop their own digital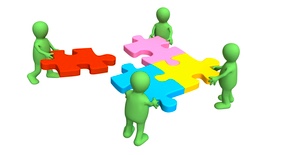 presence, they'd interprofessionally reinforce peers' messages, share across social platforms, curate Hubs & measure their impact.
Over time, their posts would populate a full network of open, curated Health Hubs for the public. Academic departments, societies, or other groups could oversee Hubs on any health topic (e.g., chronic pain, weight management, anxiety). Learners could choose a Clinical or Public Health Track.
ONE Clinical Track
Clinical Track learners, across disciplines and programs, would post, curate, spread, and refer to 'what works' as well as study impact and publish findings.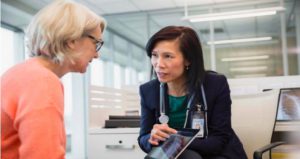 Imagine … A Psychology learner would create a post to review a CBT-I app. Pharmacy or Psychiatry learners could comment about the relative efficacy of drugs. Nursing or Physical Therapy learners could Tweet a link to the post and share on other networks. Fellows or Residents would curate posts (i.e., publish the posts that meet criteria in Hubs), study analytics, and publish findings. Primary Care Residents could use the Insomnia or CBT Hubs to 'Assist' patients to find local CBT-I clinicians in the Directory and other resources, like vetted apps.
ONE Public Health Track
In the Public Health Track learners would apply social scholarship skills as they help conduct ongoing intercollegiate health communication campaigns to boost community health.
Similar to the 650+ IHI Open School Chapters that students organized, ONE learners could set up ONE Social Chapters.  They could curate a Campus Fitness Hub to host and sustain campus fitness challenges.
George Mason University Communication courses (and Starbucks) have piloted the use of service learning across semesters to develop an annual challenge – March Madness for Total Fitness – in which campuses would compete to be the most fit (in tandem with March Madness). At the 2011 CUDCP meeting, over 40 Clinical Psychology Directors indicated they'd participate.
Ready to start?
We hope to develop this effort organically with academic partners who share our aims for interprofessional development training, digital health literacy and communication, pubic health and/or dissemination.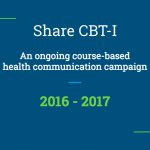 Educators and Researchers: Consider integrating elements of the project into your existing work. For example, a behavioral sleep medicine Fellowship could set curation standards for the Insomnia Hub. A Health Communication course could develop an online training module. A research lab could include the platform in its research design or grant development. A professional society could oversee the curation of a Hub. Students are also welcome; a neuroscience major is developing the Addictions Hub and a former neuroscience graduate student is the curator for the Neuroscience Knowledge Network.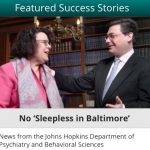 Practitioners: Consider developing a profile and authoring Hub posts (Insomnia, CBT, Health Comm, Addictions, Neuroscience).  Posts can highlight your posters, slides, PDFs, and even the live streaming or archived YouTube 'shows' you might host.
Associations, Foundations, Labs or Centers, Government agencies, Universities are welcome to participate as well.  Contact Meredith Cary to discuss how your teaching, research, and practice 'social' aims may fit with ours.
Meredith Cary, PsyD (drcary@mac.com) has over 20 years experience in academic health centers and is the behavioral sleep consultant to the Sleep Center at MedStar Georgetown University Hospital in Washington DC.  She's taken the Mayo Social Media Residency and is a member of the Institute for Health Improvement I-CAN,  She's a member of the Societies for Participatory Medicine, Health Psychology, Advancement of Psychotherapy, ABCT and the ADAA,  Disclosure: Dr. Cary has been a donor to the Neuroscience Knowledge Network – a non-profit social enterprise for open access in knowledge sharing.